Porcelain tiles are a type of dense, robust ceramic. Fired at a higher temperature than ceramic tiles, they are less porous, lighter and thinner. Thinking of buying porcelain? Read on for some useful tips:
1. Use large-format sizes for dramatic effect. In general, you'll pay more for porcelain than for standard tiles, plus a premium for large ones, but the results are worth it.
2. In a kitchen or bathroom, lightweight, hardwearing porcelain is an alternative to heavy stone. The stone lookalikes come with realistic colour variations, veining or pitting, and there are copycat wood effects with natural-looking grain that are great for bathrooms where a real wood floor could be damaged by water.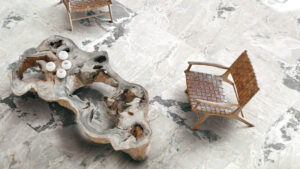 3. Porcelain needs to be laid on a completely smooth, flat sub-floor.
4. Tiles that are labelled 'full bodied' or 'through', have the colour or pattern running right through so if they get chipped, any damage will be less noticeable. Check whether unglazed porcelain tiles need to be sealed.
5. Link the indoors seamlessly to the patio using matching indoor and outdoor porcelain tiles – the outdoor versions are thicker, frost-proof and resistant to temperature changes.
6. Look out for the latest washed cement effects, slim slips replicating block flooring, chevron patterns, and porcelain planks.
Click HERE to learn more.