There's no doubt about the popularity of today's luxury vinyl tile and planks for flooring. The rapidly growing selection of these products is a testament to their versatility, ease of maintenance and durability. Designer Carolyn Elleman of Case Design/Remodeling in Washington, D.C., says luxury vinyl flooring is "life-proof," very forgiving, and cost-efficient. "The cost savings is amazing compared to other materials like hardwood and tile," she says. That said, the quality of this material varies, and to some, it is just not as desirable as the wood, stone, and ceramic it imitates. Here's a guide to the latest in luxury vinyl and what to consider if you're going to use it.
What Is Luxury Vinyl Flooring?
Luxury vinyl tile (LVT) and luxury vinyl plank (LVP) come in a wide array of sizes and designs, from a variety of manufacturers. They mimic an array of natural surfaces, from refined and distressed wood to concrete to slate, marble and other stone. Each tile and plank is constructed of multiple layers of plastic and padding, which vary by thickness and in the composition of the core layer; these elements affect how quiet and comfortable the floor is to walk on, and how durable it is.
Layer by layer. The clear outer surface, called the wear layer, does what its name suggests — it wears under foot traffic and furniture, so its thickness is an important consideration. The thickness of this layer is measured in mils, with 1 mil equal to one-thousandth of an inch (about 40 mils equals 1 millimeter). The thicker the wear layer, the more durable and long-lasting the tile or plank. Most residential vinyl wear layers range from 8 to 12 mils thick. Experts recommend at least a 20-mil-thick wear layer for heavily used areas. The wear layer has a urethane coating for further protection, and textured grain and knots are often embossed into the surface to match the material the vinyl is imitating. Below the wear layer, a high-definition photographic layer of digitally imprinted paper is what gives the tile or plank its natural look of wood, stone or encaustic tile.
The next layer down is the core, often made of a thick vinyl mixed with a plasticizer or fiberglass, to give the tile or plank stability. Some products have an attached underlayment, usually made of cork or foam. This layer provides cushioning to make the floor more comfortable to walk on.
The overall thickness of luxury vinyl tile or planks is measured in millimeters, and higher-quality products are at least 8 millimeters thick. Thicker tiles are usually preferred if they're clicked together for installation.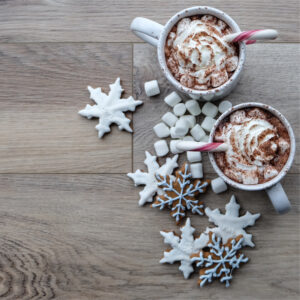 Where to Use Luxury Vinyl
Because it's usually waterproof and easy to maintain, luxury vinyl flooring is a good choice for wherever there are spills, kids and pets – making it a sensible option for kitchens, bathrooms, entries, mudrooms and playrooms. Kitchens might be the most practical space for luxury vinyl flooring. Designer Elleman used faux-wood luxury vinyl planks for this kitchen in Washington, D.C., and likes the material for its versatility. "If you are using a room fairly often, such as an office or kitchen, maybe you look at vinyl that has a cork backing on it. It helps add a little padding when you are on your feet," she says.
Luxury vinyl is one of the safest and easiest –to-maintain flooringoptions for your family. To learn more about the recommended installation methods, please click HERE.