Why You Might Want Porcelain Slab Countertops
When you think about tile countertops, what probably leaps to mind are the ubiquitous small squares separated by thick grout lines that you tore out of your last kitchen or master bath when you remodeled those spaces. They were a pain to clean, not particularly attractive (unless you were doing a retro project and love pink or seafoam vintage style), and you were thrilled to get rid of them.
You might have replaced those surfaces with granite if you renovated in the decade before the housing crash, or with engineered stone, if you've done so more recently. So it might surprise you to learn that tile countertops are making a tremendous comeback, but not in any way that you've seen them before. It's kind of like the design world's version of Clark Kent becoming Superman.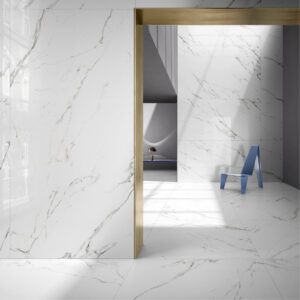 Special features
What has emerged from the tile scene (especially from factories in Spain and Italy) are oversized porcelain slabs that look like granite, marble, wood, linen or just about any other natural material you could want – with none of their maintenance issues or usage restrictions. Like competitive quartz and solid surface materials, porcelain slab tops are nonporous, so they're a safe and healthy option for food preparation. Unlike those two materials, however, porcelain can be installed outside and is both heat and frost tolerant for homes across the country.
Porcelain is an extremely hard surface that isn't prone to the etching, staining and other damage that daily household life can inflict on natural marble, but it can be manufactured with comparable beauty, thanks to ink jet production technologies. Unlike marble (or granite), however, each porcelain slab is uniform, so you don't have to take time off from work to visit a stone yard to choose your remodeling project's slabs. If you're opting for a marble look – which is one of the most popular porcelain styles in use for both kitchens and bathrooms right now – you'll be able to continue a vein across a wide wall or cabinet bank with book matched slabs for a traditional upscale look. Click HERE to read more.